A bug has been found in the launcher of the Epic Games store that causes abnormal use of CPU resources and temperature increase in some computers. Epic Games has provided a patch to fix it, which of course does not seem to solve the problem completely.
There have long been reports by users of the Epic Games Store launcher software on the Internet that the software takes up a large percentage of a computer's CPU resources, and this has led to an increase in the CPU temperature of some people. In this regard, Epic Games has recently released a patch to solve this problem, which of course is not a "complete and permanent solution". Therefore, after receiving this update, users may experience an increase in the use of the device processor and consequently an increase in temperature, even when the Launcher Epic Store is in idle mode.
This issue was first posted by Neoncarbon, a user of the Reddit website, and was noticed by others. In this post, he claims that disabling the launcher in the Epic Games store has had a significant effect on the temperature of his AMD Ryzen 7 5800X processor, causing it to drop from 50 degrees Celsius to 37 degrees Celsius. Other users have made similar claims under this post.
Another user writes, for example: "I looked at my own processor, an AMD Ryzen 9 5900X. Although I was just browsing YouTube, the CPU temperature was 64 degrees Celsius. "I shut down the Epic Games launcher and the CPU temperature dropped by 20 degrees."
The HotHardware website team detected "abnormal performance of the Epic Games Launcher" a few days ago in a test related to the AMD Ryzen processor suite. The test processor was a Ryzen 9 5950X with a liquid cooling system and an Nvidia GeForce RTX 3080 graphics card. In one of the images shared by Hothardor members, when we see that the Epic Games Store Launcher is not running, the Windows Task Manager shows a CPU usage rate of 1%; Meanwhile, Ryzen Master software reports CPU temperature of 34.28 ° C. Click here to enlarge the image below.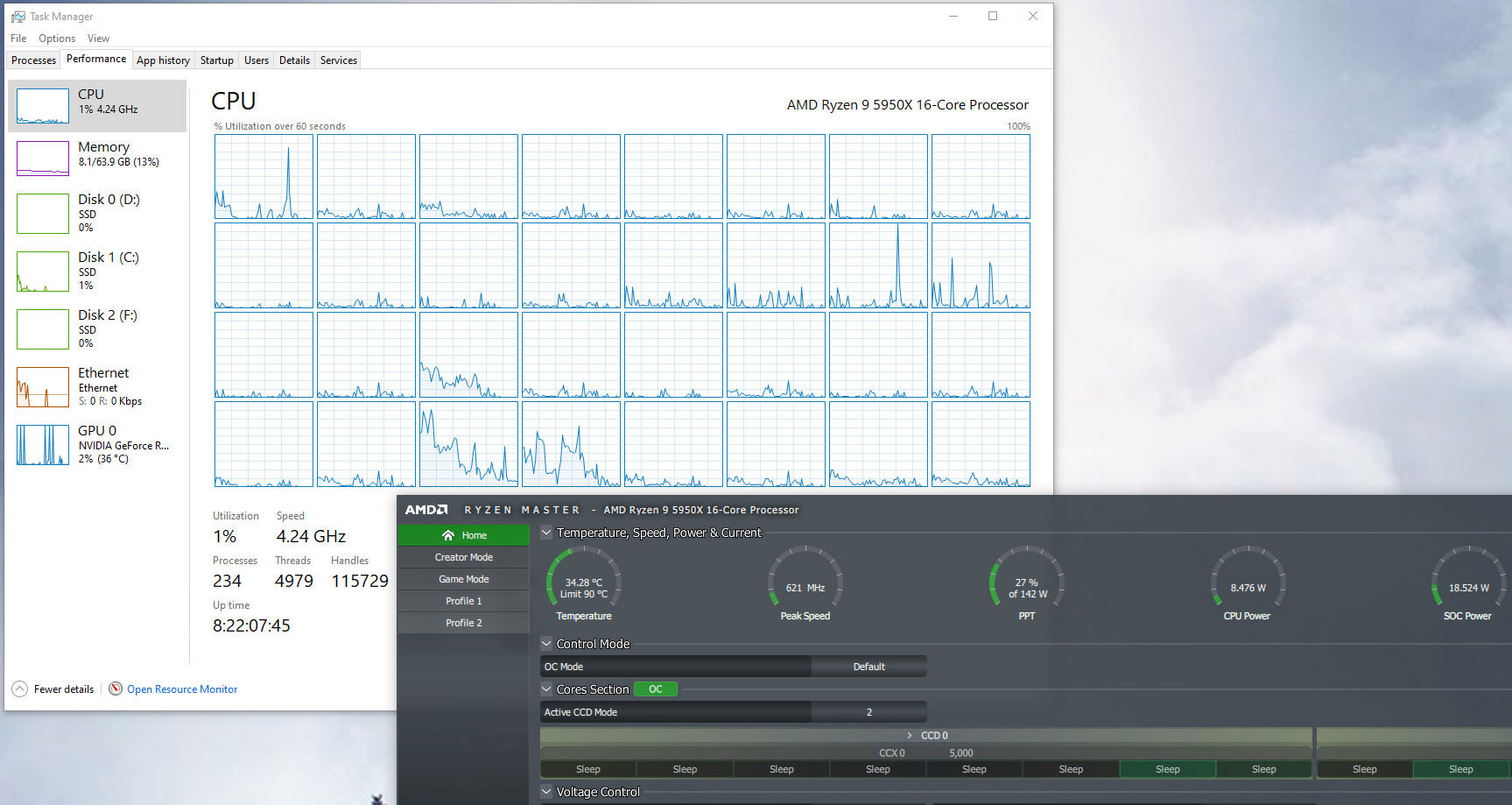 Measuring CPU usage and temperature when the Epic Games Store launcher is not running (temperature measured in Ryzen Master software)
The second image shows that when the launcher is running in the background, CPU usage reaches 7% and its temperature suddenly rises to 56.78 ° C. "After looking at Task Manager, we found that the Epic Store launcher software uses CPU cores and continues to use some cores even when there is no specific activity going on in the launcher," says Hothardor. "In fact, it continues to use CPU resources in a way that not even any games in the background are being updated." Click here to enlarge the image below.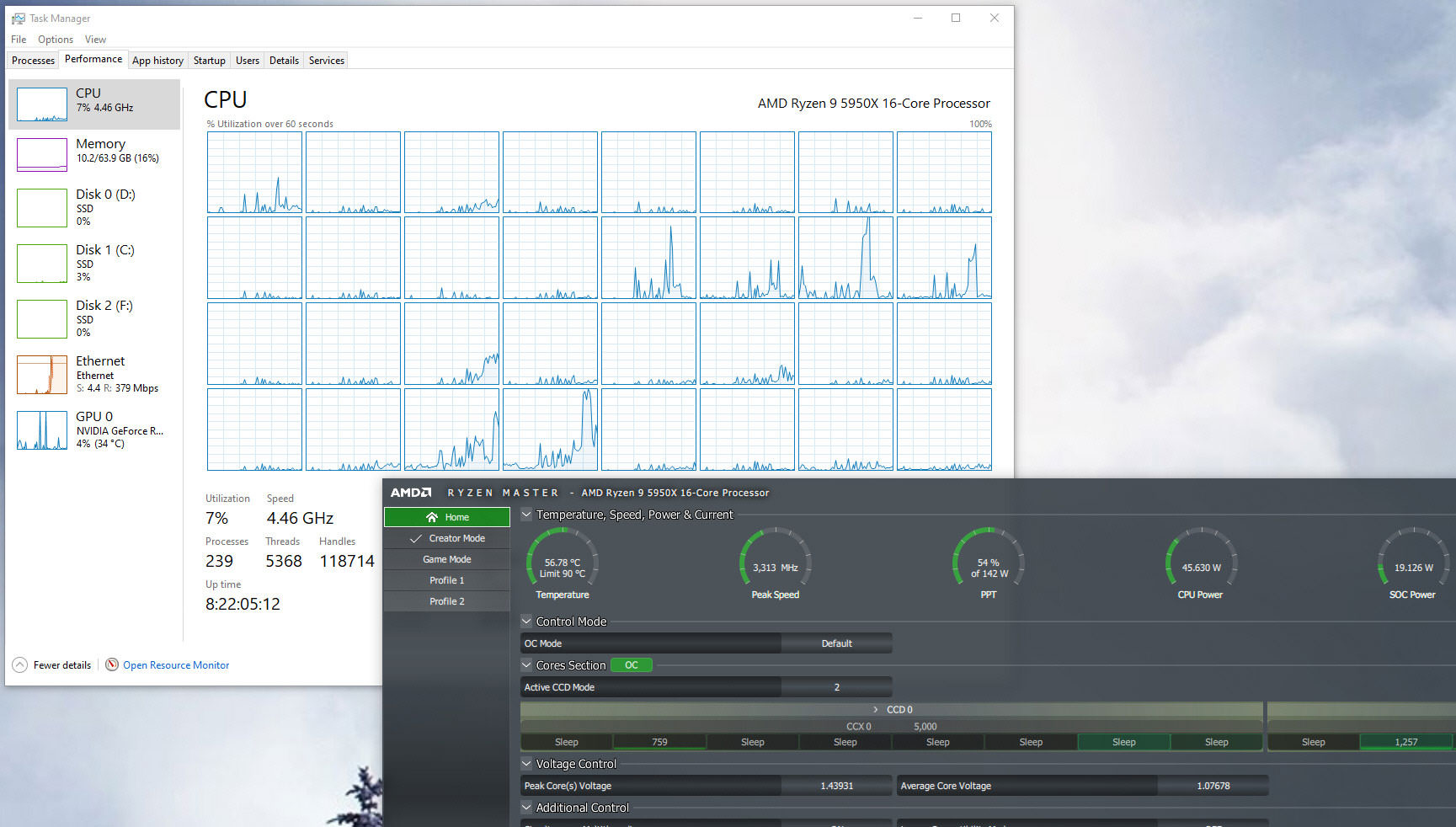 Measuring CPU usage and temperature while running the Epic Games Store launcher in the background (temperature measured in Ryzen Master software)
They also claim that the Launcher Epic Games Store "sends data to 22 different servers at regular intervals." This continues in all modes of running the program, such as running in the background, running on the desktop, and in minimized mode.
Related articles:
Such behavior (using CPU resources and increasing its temperature) has not been observed in other online game stores such as Steam or GOG. "It was because of a bug in the launcher," said Sergey Gallionken of Epic Games. In this regard, Epic has released a new update (11.0.2) which, although it does not completely fix the problem, but it will probably improve the situation a bit. Gallionken explains that the 11.0.2 update that is currently available is not a complete and permanent solution to this problem, "but it does make things better." To receive this update, you must go to the launcher settings and find and download it at the top of the page. Another way is to get the latest Epic Games launcher build from here Download and reinstall the software.
What do you think about Zomji users? Let us know what you think.