Lightning Games has announced that the release of ANNO: Mutationem has been postponed to the third quarter of 2021.
These days, the delay in the release of games is not so surprising. After all, we are still struggling with the corona virus, which has plagued a significant number of game development studios. Therefore, the delay of ANNO: Mutationem game by Lightning Games Studio should not surprise the fans. In addition, given the state of another cyberpunk game that has recently hit the shelves, it makes sense that developers would like to spend more time developing ANNO: Mutationem to bring the best possible experience to players.
Lightning Games Studio Announcement: We apologize for having to delay the release of ANNO: Mutationem until the third quarter of 2021. New goals have been set and we will work hard until the game is released. Thank you again for joining us on this wonderful adventure and we wish you a happy new year and good health.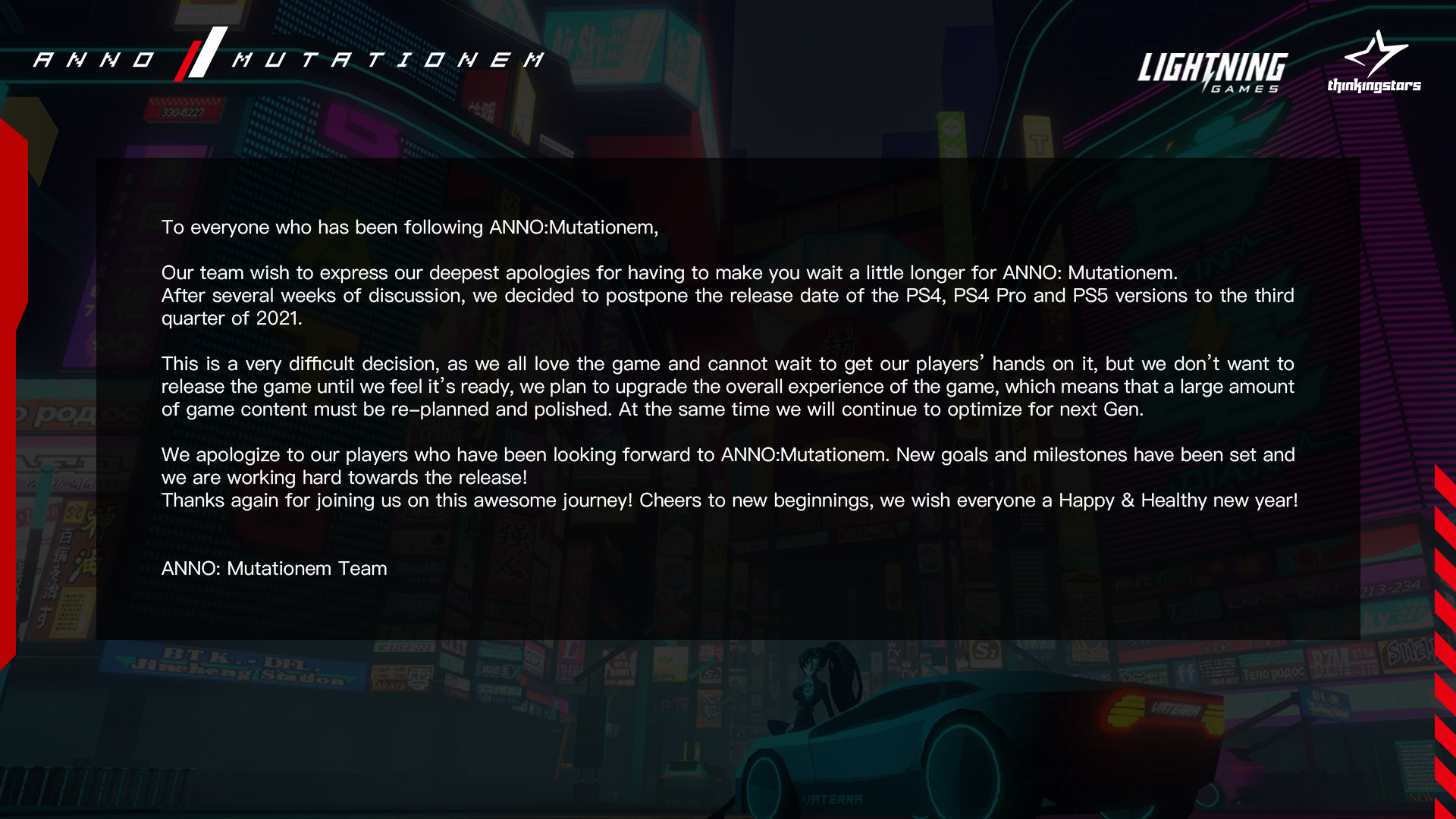 Looking at the problems of Cyberpunk 2077 at the time of release, it can be said that many fans will probably not be disappointed with the recent announcement of Lightning Games Studio. Given that ANNO: Mutationem has been great in trailers so far, players prefer to have a flawless effect at the time of release. If this is the first time you hear the name ANNO: Mutationem, we have to say that this game is a beautiful action-adventure effect that has some elements of role-playing games. This game uses 2D and 3D art style simultaneously to achieve an eye-catching visual design that we see in the gameplay. Naturally, this game does not want to appear at the level of Cyberpunk 2077, but it will evoke this genre very well.
Of course, the performance of the game at the time of release and presentation of flawless trailers are two completely different categories. We hope that the delay of ANNO: Mutationem will provide enough time for Lightning Games Studio to fix all the flaws and shortcomings of the game. Also, as stated in the studio's announcement, this extra time could help prepare for the PlayStation 5 version, which is good news for ninth-generation console owners. ANNO: Mutationem will be released in 2021 for PC, PlayStation 4 and PlayStation 5 platforms. The developers have already made a demo of the game available to players at The Game Awards Steam Festival. In the spring of 2021, we will once again see the Steam Fest event, which will probably provide another opportunity to experience the trial version of ANNO: Mutationem.