A waveguide is a structure that transmits light in another direction and ultimately directs it. In augmented reality devices, this mechanism is commonly used to route graphic information from the output source to the display in front of the user.
In a new invention called the "pixel array embedded in the photonic integrated circuit (PIC)", the tech giant Cupertino draws a method for a system under the PIC, using light emitters and waveguides to display information in an optoelectronic device.
Related article:
The invention is far more technical than most similar ones and focuses on basic technology and system-related mathematical formulas. No part of the case file mentions its use for a wearable device, smartphone, or other consumer product; But Apple seems to be focusing on downsizing projectors for visual applications that require a compact, efficient pixel generator to produce the visible light spectrum.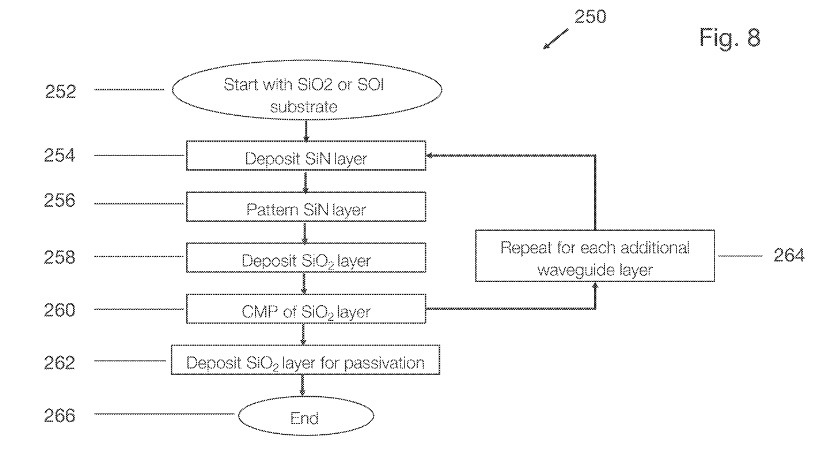 Apple notes that an optoelectronic device can contain at least three light emitters located on one layer. The waveguide on this substrate can receive that light as input and direct it to the output adiabatically.
The PIC can include directional connectors that can be used to transmit optical beams at different wavelengths. For example, a connector transmits green light from the green laser to a waveguide system, which can also carry blue light from the blue laser, and when this process is complete, it will include a beam light conductor that includes The light components are red, green and blue. The actual color and intensity of the output can be adjusted by modulating individual emitters or by using external variable optical dampers (VOAs). This process can be implemented and integrated in the same PIC.
Apple claims that several sets of emitters and connectors can be combined to produce an integrated lightweight multi-pixel engine. This invention does not reflect Apple's plans for its future products; But like other light-guiding technologies, it is used in augmented reality (AR) products or augmented reality (MR) devices.
Previous inventions have explicitly stated that a wave guide can be used to lighten and balance devices that can be mounted on the head. Another invention in 2019 suggests that Apple may be working on another light-guiding system that includes mirrors and lasers instead of screens; It should be noted, however, that many AR-based devices, such as the Magic Leap, use light-based technology, and it was reported that Apple met with suppliers of this technology and other AR component makers during CES last year. Is.
Apple patents countless inventions on a weekly basis. Patents represent topics of interest to corporate research and development; But it does not guarantee that it will be offered in a future product or service. But for several years now, Apple has been rumored to be working on augmented reality glasses and a virtual reality or augmented reality headset, and in recent speculation, it has been referred to as the Apple Glass.
It is said that the first prototype of Apple AR products will arrive at a price of $ 499 in 2022. Numerous reports and numerous patent cases somehow prove this and show that Apple is very determined to launch this type of product.