Arasbaran is one of the busiest and popular tourist areas in East Azarbaijan province, which is one of the most popular tourist areas in northwestern Iran with its natural and extraordinary landscapes as well as valuable historical monuments. Of course, it should not be overlooked that this beautiful mountainous and forested area is less known and much less studied than other forested areas in the north of the country.
Nor should structural similarity Arasbaran Forest Ignored with the northern forests of the country, which is of the Hyrcanian type. Despite all this, this forest region annually hosts many tourists and travelers from all over Iran and the world who travel to East Azerbaijan to see its amazing natural sights and to visit the historical monuments of this beautiful region.
Learn more about Arasbaran forests:
Where is Arasbaran?
Arasbaran forests with an area of ​​130,000 hectares are located on the south bank of the Aras River in the north of East Azarbaijan province and is considered one of the most beautiful areas in the northwest of the country. In the past, Arasbaran was called a large area from the Aras River between Jolfa to Moghan and the mountains of Sabalan, Bozqush and Sahand, but now due to various reasons such as deforestation and the like, the Arasbaran forest is limited to the borders of Kalbir, Varzeqan and Ahar. .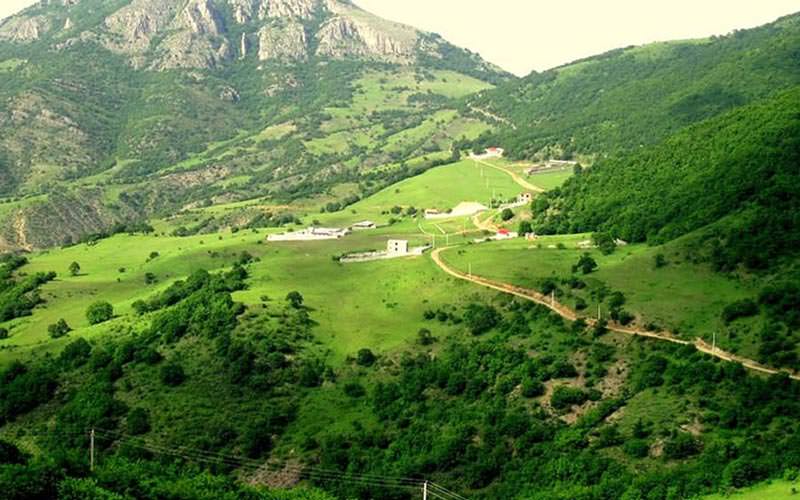 "Arasbaran", "Qara Dagh", "Arazbar" and "Qaracheh Dagh" are the names of mountainous and forested areas in the northern part of East Azerbaijan province, which can be considered among the top natural tourism destinations in the country. This beautiful land enjoys extraordinary landscapes, pristine and untouched nature and fascinating sights that amaze travelers and tourists when they visit this region.
It is interesting to know that more than 70,000 hectares of Arasbaran lands have been registered as a "biosphere reserve" in UNESCO. UNESCO has declared the Caucasus Mountains of Iran near the border with Azerbaijan and Armenia a biosphere reserve. In fact, this area is located between the Caspian, Mediterranean, Caucasian regions, high mountains with an altitude of 2200 meters, semi-arid plains, pastures, forests, alpine meadows, springs and rivers.
Address and access route of Arasbaran
Arasbaran is located in the north of East Azerbaijan province and is considered one of the most beautiful areas in the northwest of the country and the sights of Kalibar.
How to go to Arasbaran?
with plane: Get a plane ticket to Tabriz and after this city, go to Arasbaran region by renting a car.
by train: Exciting trip to Julfa or Tabriz and again driving to Arasbaran.
by bus: Arasbaran can be reached with a bus ticket to Ahar. If you choose this path, you will travel less to reach Arasbaran.
By car: If you plan to travel with your car, you must first move to Tabriz and then go from Tabriz to Kalibar.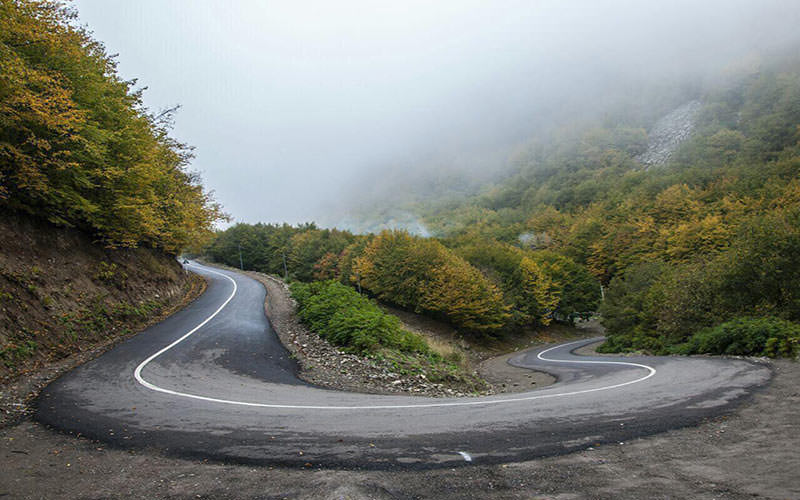 Geography of Arasbaran
UNESCO has designated Arasbaran as a biosphere. In addition to being influenced by the Mediterranean climate, this biosphere is also located in the radius of the Caspian and Caucasian climates, and because it is very high, it has a different climate. According to the 20-year average obtained from the amount of rainfall in the city of Kalibar, there is 461 mm of annual rainfall in this area, most of which is in the form of snow, and this causes various streams to form in the area and the juniper to overflow. It is worth mentioning that part of the water supply of this region is also related to the rainy season, according to which wet masses rule over a part of the region.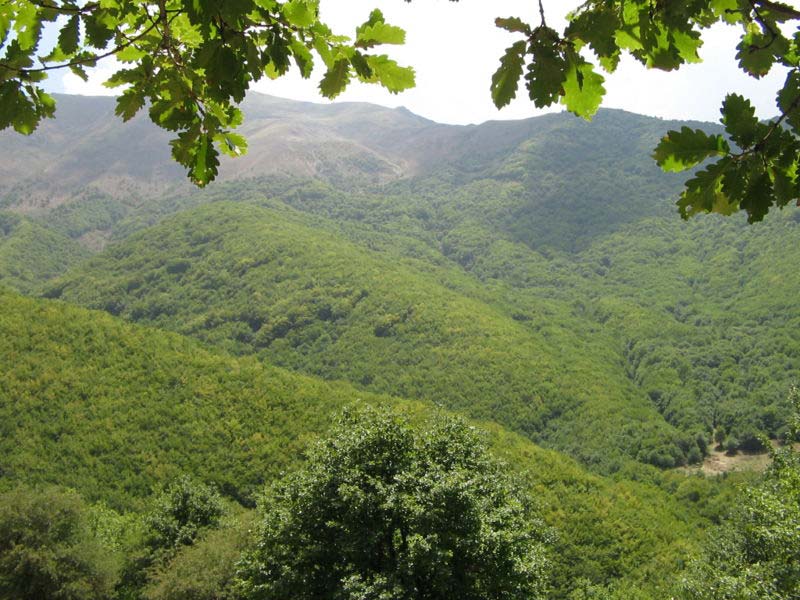 Historical background of Arasbaran
Arasbaran forest has already seen various letters, among which we can mention Arasbar, Arazbar, Qara Dagh or Qaracheh Dagh. As can be seen from these letters, the basis of the naming of this region was on the Aras River (Araz) and Qarahdagh Mountain. In addition to the beautiful scenery, pristine nature and various animals, we have a relatively long history in Arasbaran and the surviving works also indicate this. Of course, at present, no accurate historical information has been provided about this region, and in order to find out its history, it is necessary to act through the surrounding cities or Ahar and Kalibar.
Yaqut Hamavi describes the region about eight hundred years ago as a place between Azerbaijan and Iran where Babak Khorramdin revolted against Mutasim. According to him, pomegranates with unique beauty, figs and grapes are made in this area, which the locals dry in a tandoor. Because of the thick layer of cloud that is often present in the area, it is not possible to dry these fruits in the sun.
Qaradagh has a school of traditional music whose lovers (musicians of this region) are more in harmony with the special nature of Qarahdagh. Until now, due to the mountainous nature of the region, its native culture was well preserved. The following poem composed by Mohammad Araz is one of the main examples of the love songs of this logic:
But I did not go to this region again, but I did not fall into this region again

Duman's health's hot gall's health's a foggy peak

Arkamcha Su Sapir Gaida Bolutlar O Celestial Geyser and Running Water

Lisan's health's gall's health's health's hot's goodbye July …
Many famous people have been present in this place, among which we can mention Babak Khorramdin (Babak Castle is also located in this place), Sattar Khan and Sheikh Shahabuddin Ahri. There are also many historical monuments in this place, such as Babak Castle, Pashto Castle, Joshin Castle, Laughing Fortress, Sheikh Shahabuddin Ahri Tomb, and 5 Mirror Palace. The churches in this area are often about 100 years old and are considered historical monuments, the most famous of which are the church of Ainalo, the church of Vinq and the church of the steppe.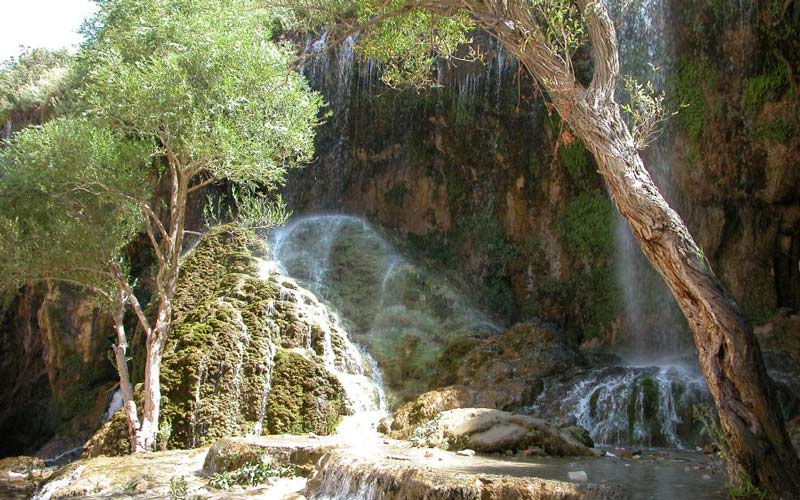 Vegetation and animal cover of Arasbaran
Arasbaran is now known as a national park and there is a lot of animal diversity in it. However, it should be noted that due to fragility and pristine landscapes, this area was declared as a no-go area in 1350 and 1352, and then a protected area, under protection and supervision. 220 species of birds, 38 species of reptiles, 5 species of amphibians, 48 ​​species of mammals and 22 species of fish live in this area. Among the mammals of Arasbaran forest, we can mention the whole, goats, boars, brown bears, lynx and leopards.
Black Caucasian chickens or partridges, partridges, pheasants, various birds of prey and countless aquatic and terrestrial birds are among the birds of this region. One of the main missions of Arasbaran National Park is to protect and revive the maral breed. For this reason, seven marals were recently transferred from Golestan National Park to this area and were released on a seven-hectare land in Inalu Research Center.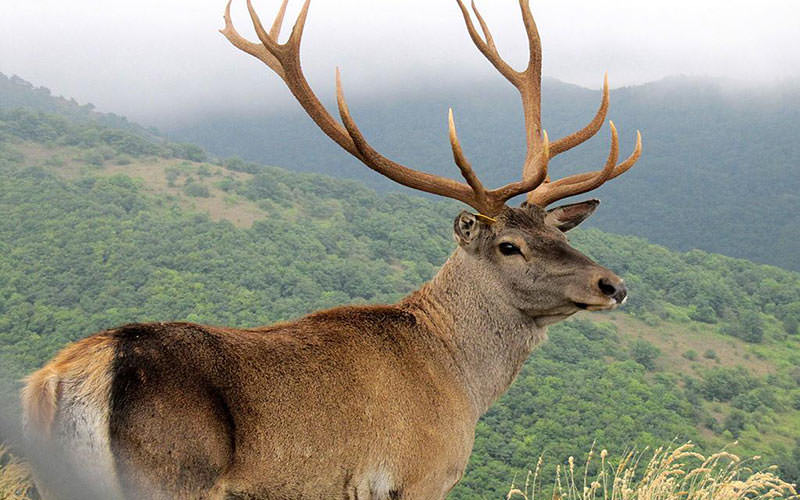 In addition to the animal diversity of Arasbaran region, this region also benefits from a lot of plant diversity. The trees in this area include oak, kikum, sumac, barberry, wild pomegranate, wild apple, wild pear and raspberry and charcoal bushes. The native fruit of this forest is also called Qaraqat, which is a sour fruit and each plant yields 3 to 4 kg of fruit per year and its fruits ripen in mid-summer. Besides different trees, Arasbaran has a high diversity of plants and fungi and it can be said that out of 2,400 plant species found in Azerbaijan, about 1,400 species belong to the Arasbaran forests.
The variety of fungi identified in this area was 250 species. Dunblane mushroom, the black and white variety of which has a high price, is found in abundance in the groves of Arasbaran, especially near the village of Drilo. It should be noted that Dunblan mushroom is a kind of underground fungus and the word Dunblan also means "swollen" or "up" in Turkish, and since this fungus raises its soil on its growth, people find this sign of this fungus. they do. The name for this type of mushroom indicates its ancient food use.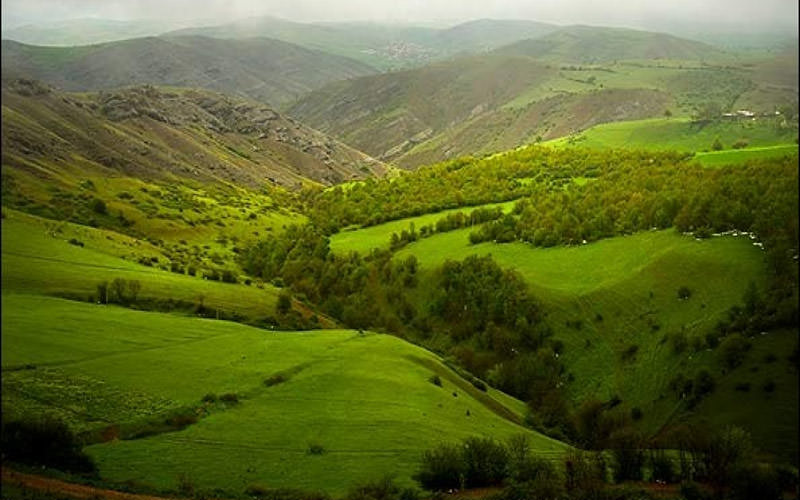 In this region, 15% of the plant species of the country are present, 46% of them have medicinal uses, 20% of them are ornamental and 17% are nutritional. Among them, 28% of the plants in this region are fodder, 10% of this amount are protected plants and 5% are industrial plants.
Arasbaran trees
The trees of this deciduous forest are a mixture of something between the humid state of the northern forests and the semi-arid nature of the steppes and forests of the Zagros. Examples of its trees are carp, mulberry, spruce, oak, sumac, oak, wild cherry, maple and so on. Sumac is another tree in this area that is mostly grown in Horand Ahar district and the villagers pick the ripe fruits of sumac during a ceremony called Sumac harvest festival and after drying, they grind them and use them for food and dyeing. .
Arasbaran, regardless of hunting, economic, social and cultural attractions due to the existence of rare plant and animal species, pristine and vast landscapes and its high fragility and vulnerability in 1350 and 1352 AD, first as a restricted area and then as a protection area. Was declared under protection and supervision.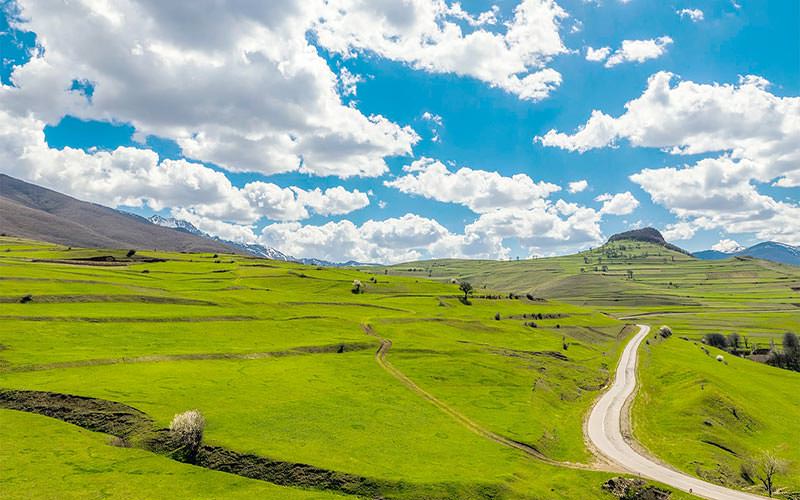 Sights of Arasbaran
Arasbaran region has valuable historical monuments that travelers and tourists travel to this tourist and recreational area to visit, such as "Tomasiash Fortress", "Nazini Church" and "Babak Castle".
In the mountainous region of Arasbaran, there are many summers that are considered as valuable features and characteristics in this region. The presence of these summers has not only made this region have beautiful, spectacular and spectacular views, but also has created a suitable and ideal platform for getting acquainted with the culture of the nomadic people in this land. "Bastamloo summer" is one of these summers which is located between the pastures of Shoja Abad villages and Babak castle or Baz castle. Other summers include the mountains of Aliabad or Kalibar, Chaperli and Aqdash villages, which are very spectacular and beautiful.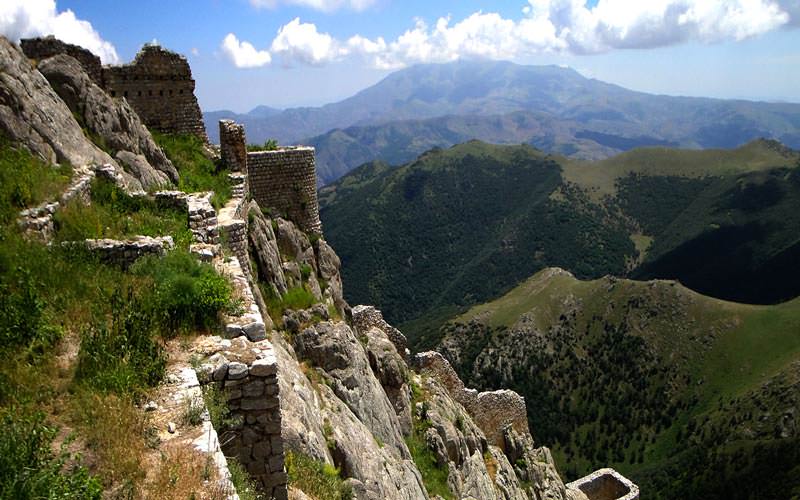 Other tourist attractions in the Arasbaran region are hot mineral springs and cold springs, which fortunately have gained a lot of popularity among tourists and travelers. Kalibar Hydrotherapy Facility is one of the most famous hydrotherapy complex in the country, which is located a short distance from the village of Metalli.
Summer of Arasbaran
There are relatively many summers in Arasbaran region, among which we can mention the summer of Bastamloo tribe. There are about 23,500 nomads living in this area and it is worth mentioning that due to its high altitude, the weather in the area is somewhat cool on hot summer days and warm clothes and blankets should be used in the forests of Arasbaran at night and tourists should visit this area before traveling. Consider this and bring the right equipment with you.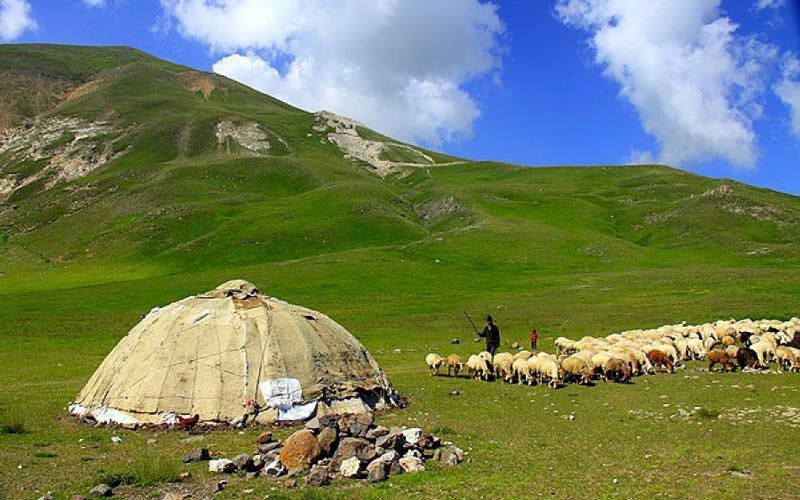 Accommodation in Arasbaran
There are various hotels in different cities and villages of Arasbaran forest that tourists can use for accommodation.
common questions
What are the most famous sights of Arasbaran?
"Tomasiash Fortress", "Nazini Church" and "Babak Castle" are among the sights of Arasbaran.
What is the distance from Tehran to Arasbaran forests?
The distance from Tehran to Arasbaran is about 787 km.
What is the best time to visit Arasbaran forests?
The best time to visit Arasbaran is late May to late September.
Which way should we go to Arasbaran?
Take the Tehran-Tabriz freeway and choose the side road that leads to Ahar. After passing through Ahar, you will reach Kalibar, which is on the southeast side of the Arasbaran protected area.