Many users admire Apple MacBooks for their impressive design and high working class; But if you know that Huawei has offered high-end products with MacBook at a much better price, you will be surprised.
In the following, you can get acquainted with the powerful competitor of MacBook and the specifications of Huawei Matebook D15.
"Matebook laptops are a series of products from Huawei that were introduced on the opening night of the Mobile World Congress (MWC) on February 21, 2016. "More models of this series were released in the following years."
This is a brief history of Huawei Matebook laptops, according to the Wikipedia encyclopedia; The path that began in 2016 and has now reached its peak of development and maturity in 2020. Therefore, Huawei can now be considered one of the best and most creative laptop manufacturers in the world.
Among the Huawei laptops, the D15 Matebook can be considered a successful product due to its specifications. Interestingly, this laptop is available to users with two different configurations in terms of processor so that Intel and AMD lovers can choose the popular model according to their taste. In the following, we will get more acquainted with the specifications of Matebook D15.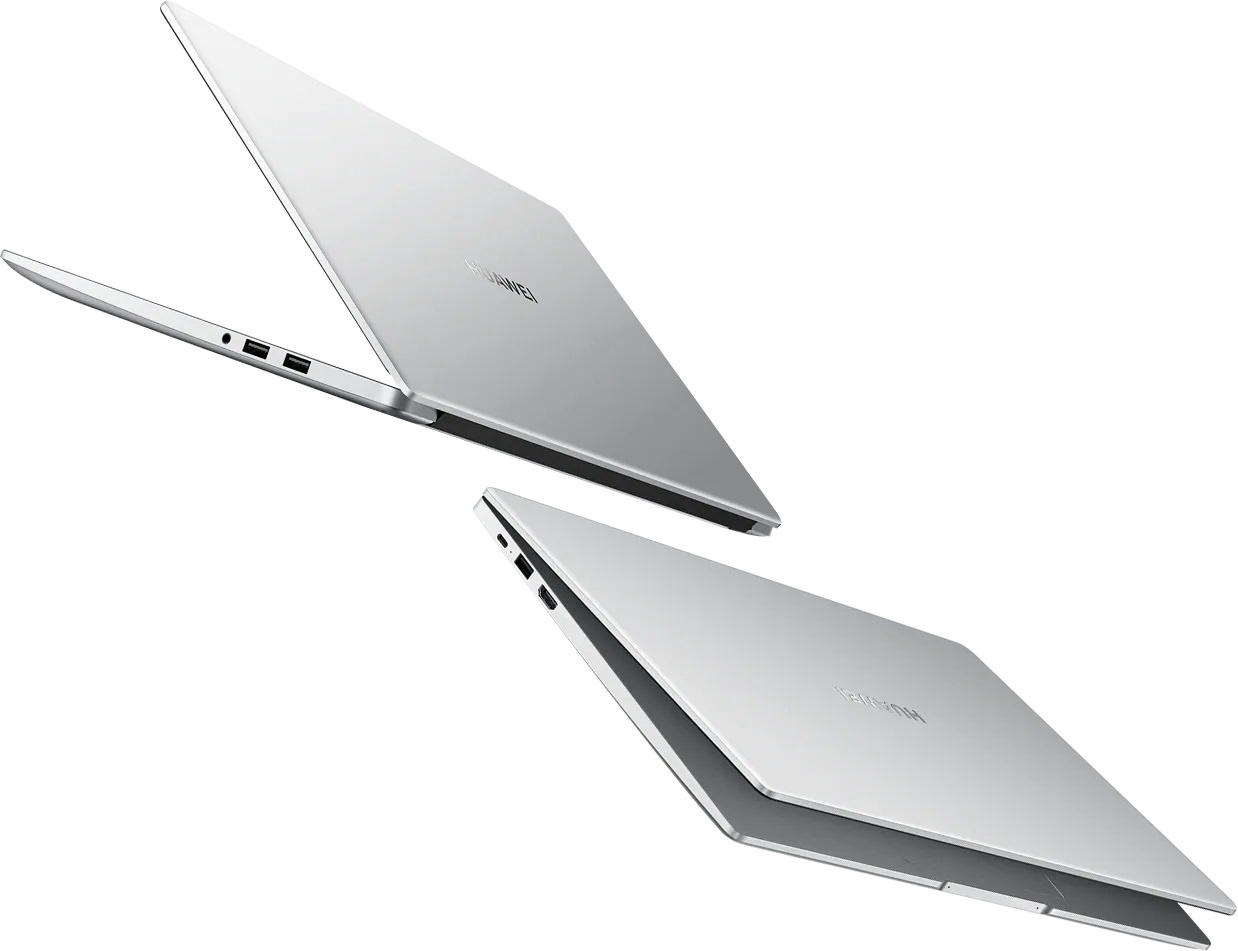 Stylish and light design
No matter how high a laptop is, it needs high portability to be the number one choice of users. Huawei has paid special attention to the ease of carrying the MateBook 15 laptop, which results in a weight of only 1.53 kg with a thickness of only 16.9 mm. So with a light and beautiful MateBook D15 laptop, you can enjoy a complete Windows computer anytime and anywhere.
The display cover, the bottom cover and the side cover of the Huawei D15 laptop are made of aluminum, which, in addition to high strength and low weight, has also given it a very beautiful appearance. This laptop is offered in two very attractive colors, silver and gray.
Another interesting feature of the HUAWEI MateBook D15 laptop is that it has an integrated power button with a fingerprint sensor. This way, you can turn on the laptop and unlock it by pressing this key once.
For the safety of more users, Huawei has embedded the MateBook D15 webcam in the middle of its keyboard, which comes up with a small push and is ready to use. In case of emergency, the user can hide the webcam inside the keyboard for maximum security.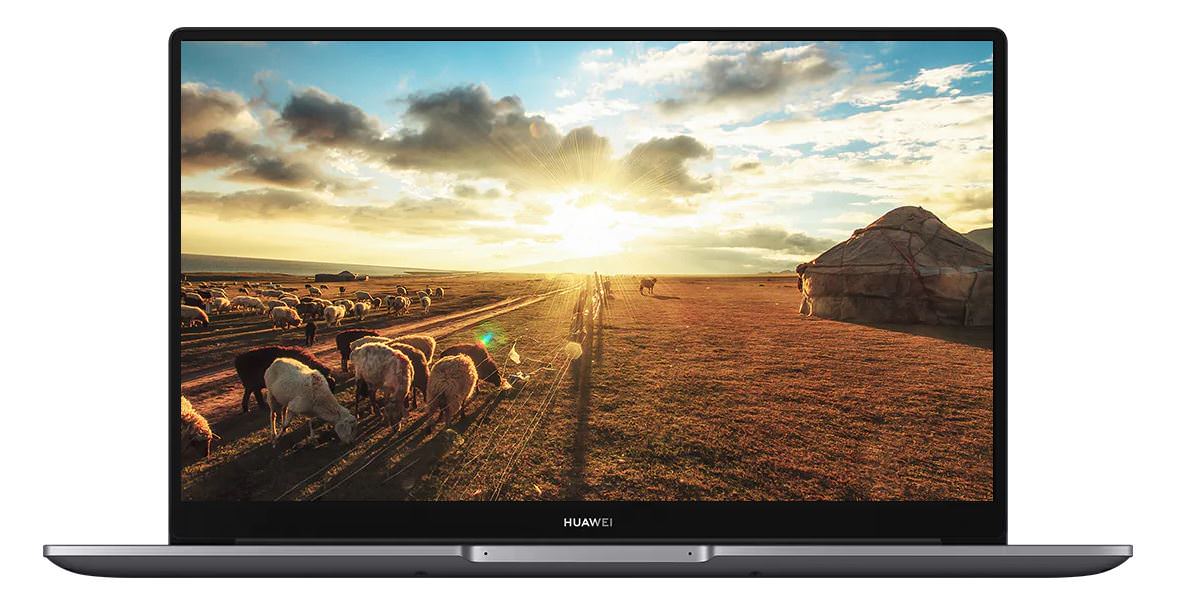 Wide screen and FullView
This laptop is equipped with a large and beautiful 15.6-inch IPS FullView screen, which with its very thin edges with a thickness of 5.3 mm, has increased the screen-to-front panel aspect ratio to an excellent 87%. The narrow bezels of the MateBook D15 screen double the fun of watching movies, producing content, and surfing the web.
Huawei has used a high-quality IPS panel with a resolution of 1920×1080 ‌ pixels and a contrast of 800: 1, which provides a wide viewing angle of 178 degrees. This screen has a 16: 9 aspect ratio and has been certified by TÜV Rheinland Has also been. Taking advantage of this feature means that the Matebook display D15 protects the user's eye from long-term use while preventing dry eyes.
Powerful and versatile hardware
The MateBook D15 is powered by the powerful AMD Ryzen processors Or Intel Core i5. In fact, you can get this efficient, lightweight laptop with any AMD Ryzen 5 3500U processor. ، AMD Ryzen 7 3700U Or Get an Intel Core i5-10210U.
Take advantage of 8 or 16 GB of high-speed DDR4 RAM in combination with a powerful Radeon GPU (In models AMD) or GeForce MX250 / Intel UHD Graphics (on Intel models) makes the D15 a good fit.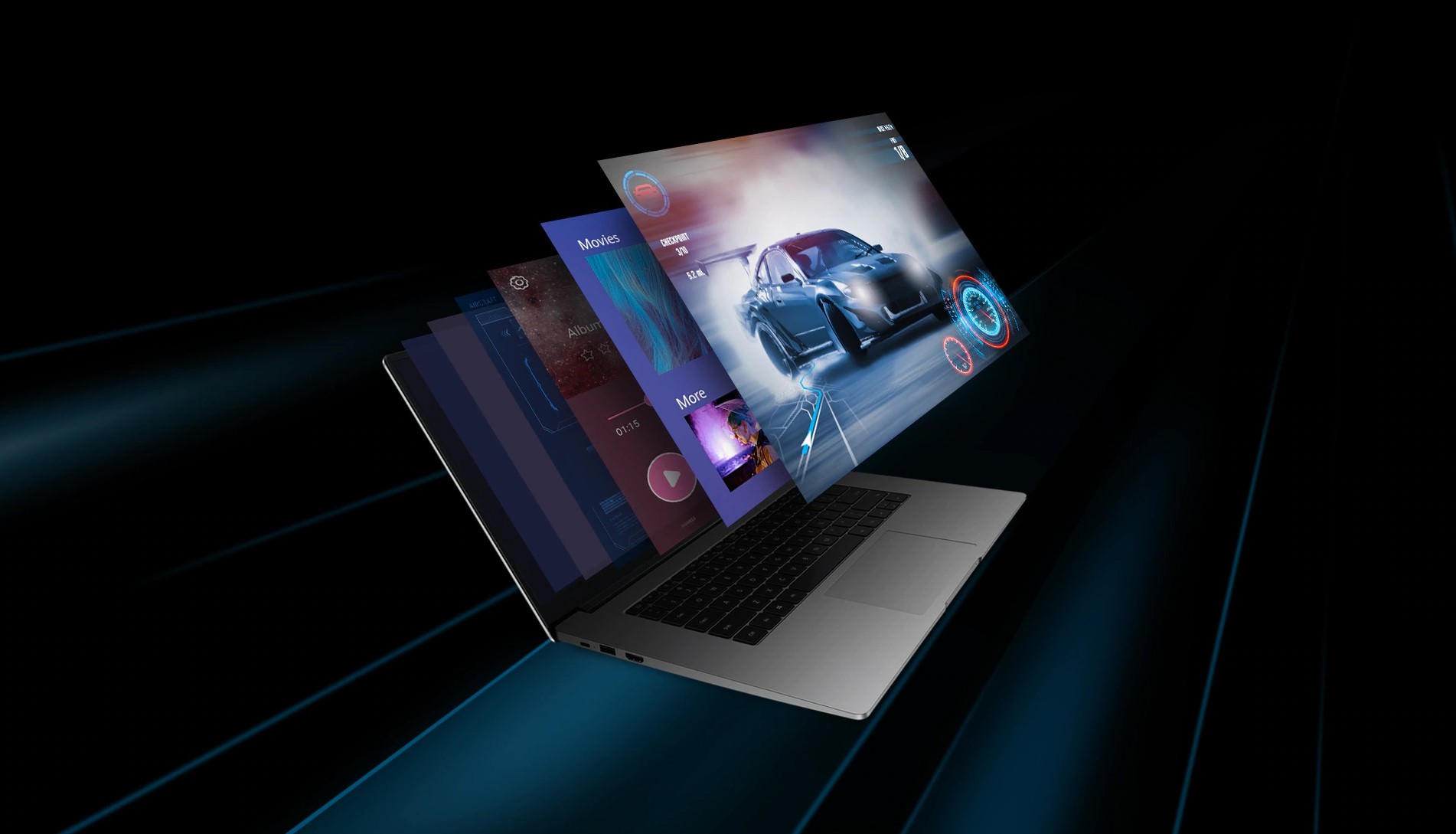 The Huawei MateBook D15 uses a high-speed PCIe SSD with a capacity of 256 or 512 GB for instant execution of applications and fast loading of the operating system. You can also have another terabyte hard drive along with a high-speed SSD by providing another configuration.
Despite the affordable price of the Huawei MateBook D15, this laptop has a full range of up-to-date ports and connectivity features such as USB-A 3.0, USB-A 2.0, USB-C, HDMI and a 3.5mm audio jack. The MateBook D15 also has IEEE 802.11a / b / g / n / ac high-speed Wi-Fi with 2×2 MIMO technology and Bluetooth version 5.0.

65 watt fast charge
MateBook D15 laptop Despite its low weight, it uses a decent battery with a capacity of 42 watts per hour. However, Huawei is not content with this and the MateBook It offers the D15 with a 65-watt USB-C high-speed charger. This charger is able to charge the laptop more than 50% in just half an hour.
You can also charge your phone with this charger and use its USB-C cable to transfer files between different devices.
Integration with Huawei products
If you use Huawei phones, this laptop gives you another functionality called Huawei Share. With this feature and with just a simple touch, your phone and laptop are combined and you can manage your phone through the laptop screen without the need for the Internet. This way you can easily transfer files between two devices and even use the laptop keyboard to write messages on the phone.
Finally, the 15.6-inch MateBook D15 laptop A full-featured choice with up-to-date hardware, a stunning display with eye-catching mode, an impressive design and a very fast 65-watt charger. This laptop has other features such as stereo speaker, dual microphone, webcam type It also has HD 720p, full-size keyboard, efficient touchpad and various sensors.
Very competitive price and having an official warranty in Iran are other winning cards of this laptop in our country's market. For more information on the price and specifications of the Huawei D15 laptop, you can refer to the Huawei Farsi website.
End of ad reporting.
This article is for propaganda purposes only and Zomji does not accept any responsibility in connection with it.