Apple Corps' share of the global smartphone market in the third quarter of 2020 has slipped to fourth place following a part of the recession caused by the Corona virus. However, now with the release of the iPhone 12 family, the tech giant Cupertino has started a significant leap in sales, beating out all the competitors in just two weeks and relying on the top of the best-selling 5G smartphones in October 2020. .
Related article:
The unveiling of the iPhone 12 and iPhone 12 Pro in October 2020, followed by their release in the same month, did not give Apple much opportunity to sell more. However, data from the Counterpoint Research Statistics Association show that Apple needed only a small amount of time to quickly dominate the 5G market.
In terms of market share in October, the iPhone 12 with a share of 16% and the iPhone 12 Pro with a share of 8%, with a significant gap compared to other competitors, ranked first in the best-selling 5G handsets. In the list, the closest follower of its traditional rival iPhones is the Samsung Galaxy Note 20 Ultra, which took third place with a share of 4%.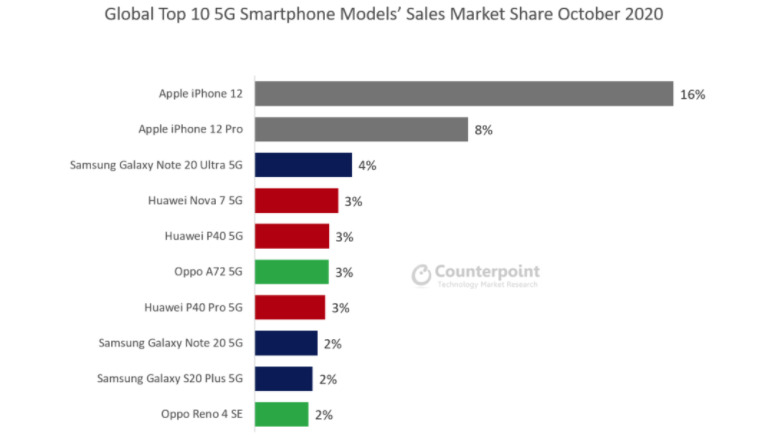 According to Counterpoint, the iPhone 12's impressive sales mean that it has ranked seventh in the list of the top ten 5G-equipped phones from January to October 2020, just two weeks after its unveiling. Analysts believe that the increase in sales of the iPhone 12 has been accompanied by a variety of reasons, including high demand for upgrades to 5G technology, and strong advertising from telecom companies in the United States has not been ineffective.
In addition, the iPhone 12 family is said to be in an unprecedented sales cycle, with more than 350 million old iPhones eligible to upgrade sales of Apple's latest handsets. Not to mention that statistics show that initial demand in China and Japan has exceeded expectations, and the widespread availability of the iPhone 12 family in more than 140 countries will increase sales figures. Published statistics show that after the introduction of the iPhone 12, US support for mmWave technology has increased from 5% in September to 12% in October.
mmWave is a set of 5G frequencies that deliver very fast speeds over short distances, making it an ideal choice for crowded urban areas. In addition, there is 5G technology with a frequency of less than 6 GHz, which is generally slower than mmWave; But it produces wider signals with longer wavelengths, making it a better choice for suburban and rural areas. Due to the low latency, mmWave technology will help to unlock the true capacity of 5G technology. With the use of mmWave network and existing devices, a solid foundation will be laid to take advantage of the power of this technology in areas such as augmented reality and virtual reality.
Demand for the iPhone 12 series is likely to rise in the fourth quarter of 2020, especially in December. The delay in the release of iPhone sales will lead to the next months and this trend is expected to continue until the first half of 2021. Apple is rumored to be working on a mmWave AiP to ship with the iPad Pro 2021 and iPhones 13, and it is claimed that Apple's latest attempt to develop AiP modules indicates that it has taken a step forward in developing RF-FEM modules. And moves rapidly toward its ultimate goal of supplying cellular modems to its products.
Not to mention that Apple is also working on its own modem chips. به‌گفت‌ی Johnny SarojiCupertino has begun producing cellular modems for use in iPhones and iPads, and will likely soon replace them with Qualcomm modems in those products.
What do you, the users of Zomit, think about the published statistics and the proper performance of Apple in selling the iPhone 12?