Marvel Comics recently released the trailer for the Avengers Mech Strike comic book series; A collection that gives giant robot armor heroes a new threat.
Earlier this year, Marvel introduced a new event that they said was set to begin soon; An event that was supposed to bring the charms of Pacific Rim and the anime series Neon Genesis Evangelion to Marvel. At the same time, it was announced that this fascinating and long-awaited event is called AvengersMech Strike. As the title suggests, in this storyline, each of Earth's most powerful robots takes on a giant, mechanical robot; Robots that are modeled largely on the physical appearance of Tony Stark and Iron Man himself.
The story of this series was written by McKee's ancestor (from the Black Cat series) and its images were designed by Carlos Magno (from the Fantastic Four and Empyre: Avengers series). The Avengers Mech Strike comic book series is said to be "about to usher in a bold new era of Avengers wars that will shock the comic book industry and beyond." Now that we are about to release this collection, Marvel Comics has released a trailer of this comic book series, which in this link, You can watch it. McKee recently spoke about the comic series in a statement:
"Heavy metal!" When the Avengers encounter something that challenges their usual methods, they need new equipment to eliminate this threat: giant robotic suits. I'm so happy and excited to have the opportunity to write Avengers stories and to be able to put them in such a compelling situation. When it comes to the Avengers, everything is great. Great action. Great risks. Now that big robots! We are going to create scenes without interruption that will not tire your moment. Along with the beloved members of the Avengers who are going to fight a new and unexpected enemy … someone who may eventually be quite familiar!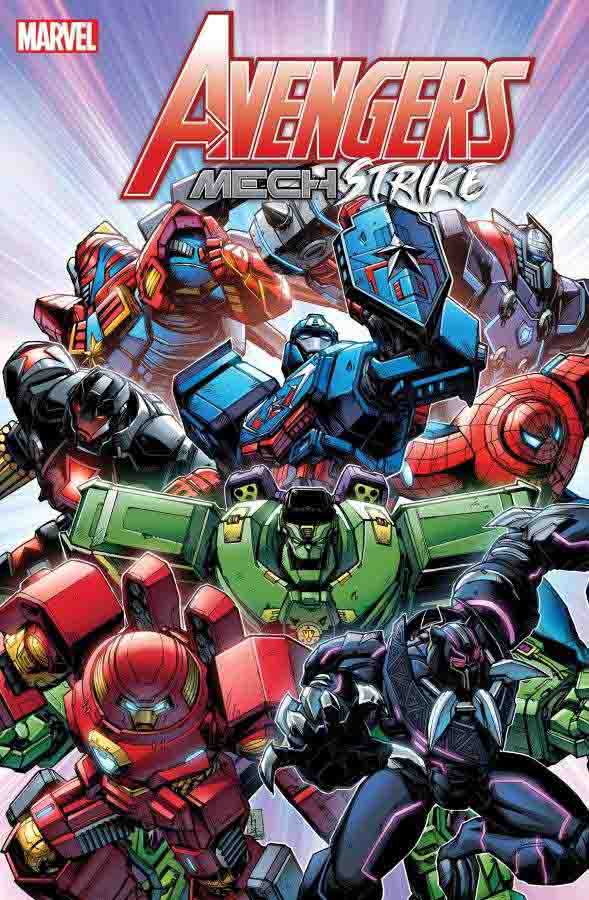 "Aliens, robots, dinosaurs, Martians … before things go well for our heroes, things will get worse." The first part of the Avengers Mech Strike comic book series is scheduled to be published on February 3, 2021. In this section, you can see the summary of the story of the first two episodes and their cover images. Also in this link You can see more detailed images of the robot armor intended for the characters.
Summary of the first part:

The members of the Avengers team face a new and uncontrollable threat; A threat that apparently is not at all within the power of any of them! But the members of this superhero team are not the ones who easily lose and step aside. When new threats appear, new and powerful equipment comes into play! Join the Avengers team as they battle a whole new enemy … Start a deadly game of chess with a shadowy thinking brain!

Summary of the second part:

This threat, which appears in the form of an animal robot, is becoming more and more dangerous, and what is the only line of defense on Earth? Avengers team! The team members are trying to fight animal robots around the world with their new robot armor. Iron Man and Black Panther, meanwhile, are desperately trying to find their hidden enemy behind this global crisis. But when the result is clear, they come to the conclusion that this threat is much greater than they previously imagined … Now the fate of planet Earth is in danger.