Brad SmithMicrosoft chief warns of widespread cyber-attacks on software SolarWinds's Orion IT is underway, and research has shown that we are dealing with attacks that are widespread, complex, and deadly.
The cyber-attacks in question appear to have targeted a number of US government agencies and are said to have been carried out by Russian government hackers. Brad Smith says the recent hack against Orion IT is a "moment of reckoning." Smith has not yet fully specified how widespread and dangerous recent cyberattacks are.
Brad Smith claims that these attacks show the negligence that has created a serious, technology-driven vulnerability for the United States and the world. Smith believes that the cyberattacks in question are not just for specific purposes, but are primarily aimed at questioning the security of the world's critical infrastructure in order to "make a state-owned intelligence agency more advanced."
Russian government hackers may be responsible for recent cyberattacks
Although the statement issued by Brad Smith does not contain a direct reference to Russia as the mastermind of the cyber-attacks, the implications of the text are quite clear. Smith says more details will be revealed in the coming weeks and "irrefutable evidence" will be available.
To show how widespread recent cyberattacks have been, Microsoft has released a map based on telemetry data from Defender Antivirus. In fact, this map shows which users in different parts of the world have installed a version of Orion IT that contained malware.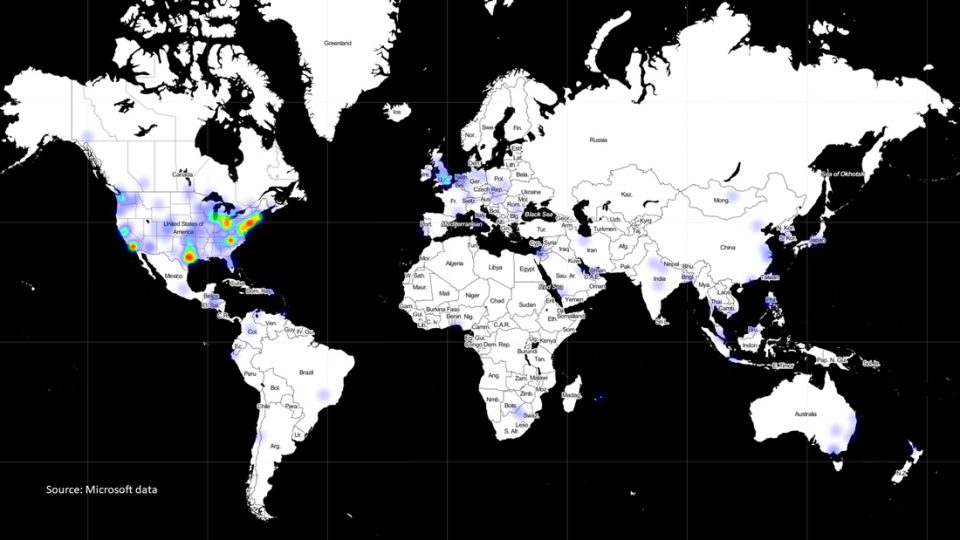 The map above shows users who have been affected by recent hacking attacks; It seems that a number of Iranian users are also involved in the incident
Microsoft also says it reported the latest margins to more than 40 of its customers last week who were targeted by hackers. Microsoft says hackers have targeted these companies with "additional and sophisticated measures." About 80 percent of those customers are in the United States, and Microsoft says others have been identified in Canada, Mexico, Belgium, Spain, Britain, the Zionist regime and the United Arab Emirates. Smith says he is confident the number and location of victims will increase over time.
Investigations into the incident are ongoing, according to Microsoft. The FBI, the Office of Cyber ​​Security and Infrastructure (CISA) and the Office of National Intelligence (ODNI) recently issued a joint statement saying they were working together to respond fully to "this cyber incident." Smith warned that we should all prepare for the release of new reports on new victims.
Reuters says Microsoft has also been affected by recent cyberattacks
Yesterday News Agency Reuters Sources who did not want to be named claimed that Microsoft had also been hacked in recent cyberattacks. Reuters also made a controversial claim that hackers had used a number of Microsoft services to increase attacks on other companies; But Microsoft in a statement to the news agency ورج Sent denied this case.
Microsoft, like other SolarWinds customers, said it was actively looking for hackers' credentials and "confirms that it has found malicious binaries on SolarWinds in its corporate environment." Microsoft went on to say that the malicious binaries were "isolated and removed" and found no evidence that the company's services and customer data were affected by the attacks. "Our ongoing research has found no evidence of our systems being used to launch cyber-attacks against others," Microsoft said.
Microsoft has been responding to recent cyberattacks since December 13, 2020. One of Microsoft's actions was to block versions of Orion software that contained malware.
Related articles:
ZDNet reports that Microsoft and a number of other technology companies have acquired the domain that played a key role in the SolarWinds attacks.
Following the launch of the new attacks, lar SolarWinds decided to remove a list of high-end customers from its official website. The list is said to include more than 425 companies in the Fortune 500 list of the top 500 companies. Brad Smith, on behalf of Microsoft, called on Microsoft to make more serious efforts for a more co-organized response to recent cyberattacks; Both at the government level and among private institutions.
What do you Zomit users think about this news?