The Deputy Minister of Culture, Social Affairs and Content Affairs of the National Cyberspace Center has published a report on the status of mobile applications and its stores, explaining the status of production and sales of mobile applications in the world and in Iran. In this report, we read that mobile applications in 2019 have been able to account for 63% of the time spent on digital media in the United States, which shows a growth of 13% compared to 2017. The number of applications in Google stores has increased almost 175 times from December 2009 to 2019, from 16,000 applications to 2.8 million applications.

The report states that most of the time users spend on social media, followed by entertainment programs such as YouTube and Netflix and games.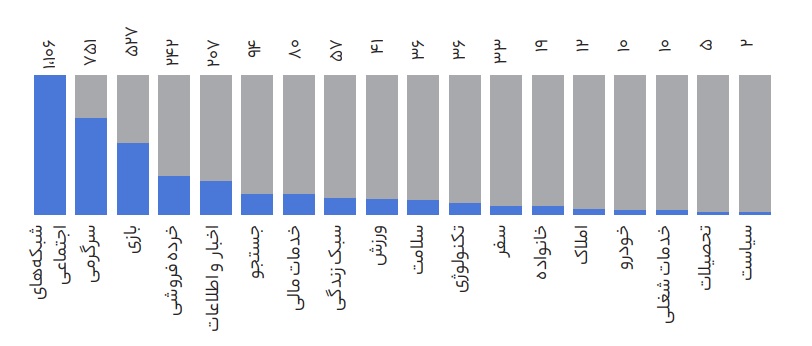 In addition, messaging and social networking apps grew significantly from 2016 to 2019, with WhatsApp, Facebook, Facebook, Messenger, TickTock, and Instagram now having the most downloads.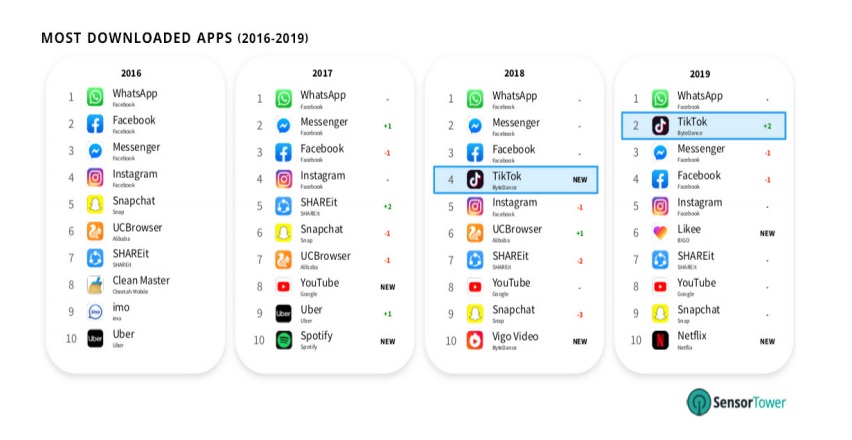 The National Cyberspace Center report points to the staggering revenue of mobile applications for their owners, from about $ 100 billion in 2014 to $ 365 billion in 2018, and is projected to reach $ 935 billion in 2023. According to the report, Google Play's gross revenue growth also increased from $ 15 billion in 2016 to $ 3.29 billion in 2019. In recent years, however, users have been paying more for mobile applications. In fact, the National Cyberspace Center reports that users spent more than 24 percent on Google Play applications and games in the first half of 2020 compared to last year.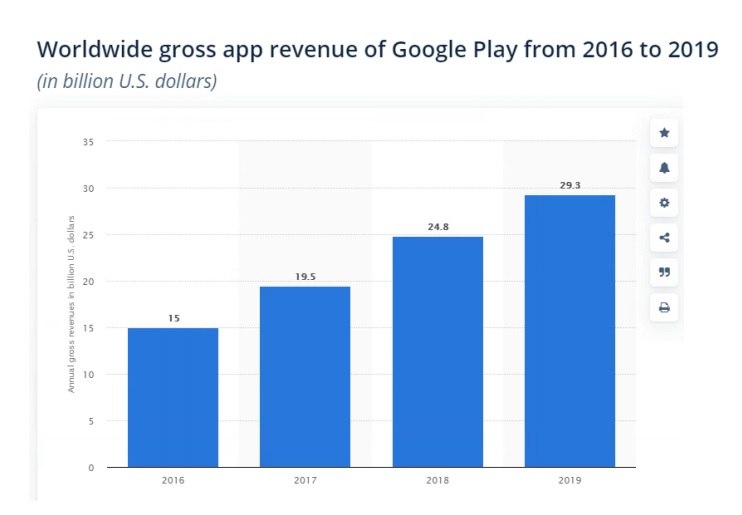 Monopoly on mobile phone download platforms
In the third quarter of 2019, 80 percent of app downloads in stores such as Google Play and the Apple Store belonged to 1 percent of software publishers and only 20 percent to other publishers, according to the Sensor Tower Research Institute. Revenues from downloads and sales of Apple and Google platform applications also belong to 1% of software publishers. The report concludes that a small number of mobile app publishers have acquired a 93% market share with revenues of $ 20.5 billion; While 99% of other publishers made only $ 1.5 billion in revenue.
The effect of Corona on the use of mobile applications
The report from the National Cyberspace Center goes on to point out the significant impact of the Corona outbreak on the use of the Internet and Internet-related devices, which increased the time spent by users in these applications by 20%; Of course, China experienced a 30% increase in the first quarter of 2020 compared to the last quarter of 2019 in terms of starting quarantine faster.
Average hours of mobile phone applications in the second quarter of 2020 increased by 40% compared to the same period last year, while programs such as online meeting programs experienced an upward slope; So much so that in the first half of 2020, Zoom grew 10 places and Google Mate 117.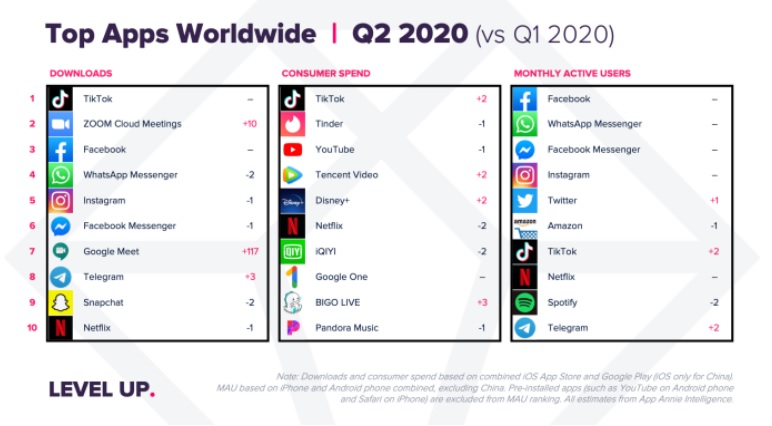 Status of mobile phone applications in Iran
According to the quarterly reports of Bazaar Cafe, the National Cyberspace Center has also published statistics on the status of mobile applications in Iran. According to the center, Production and use of mobile applications in Iran Sanati succeeds in installing the program on the platforms of Bazaar Cafe, Miket, IranApps, Olmarket, Charkhooneh and Parsohab for phones equipped with Android and Sibup operating system, Sibcheh, ‌ iTips, Iranian Appostor, installer, Sib Iranian and Nardoni system ‌ iOS invites.
According to the National Cyberspace Center, SibApp had 5 million users last February and Miket had 15 million this year. The amount of installation of Bazaar Cafe in 1398 with a growth of 7.5 percent compared to 1397, has been reported in addition to 43 million. In addition, the number of jobs created by these stores for developers is 22,000 in Miket, 29,000 in Bazaar Cafe, and 7,500 in Apple. In addition, the share of developers in the sale of mobile applications in Bazaar Cafe has increased ninefold since 2015, reaching 189 billion in 1398. However, the developers' revenue report from advertising and sales of user information and payments related to non-digital goods is not calculated, and instead, three revenue models of in-app sales and program sales and subscription sales are calculated.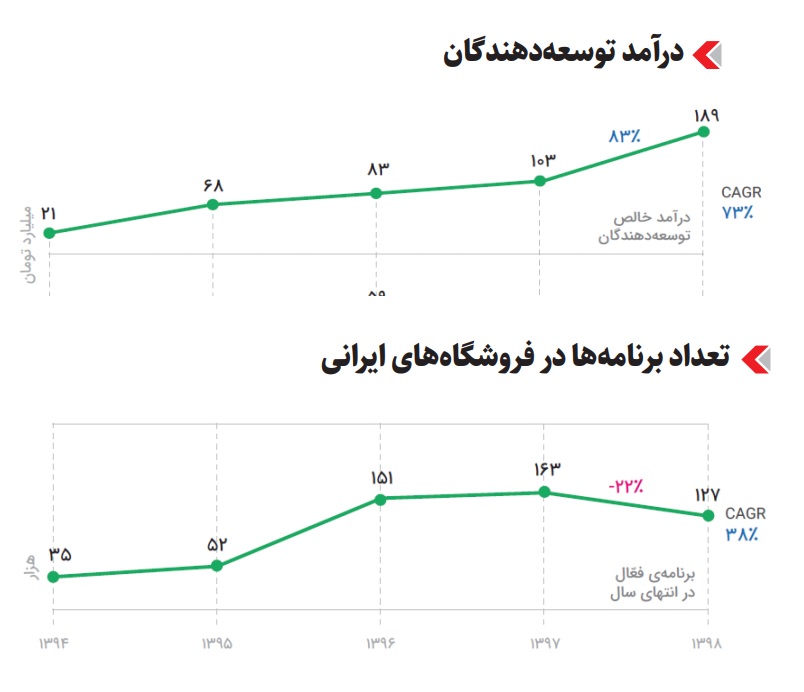 According to the report of the National Cyberspace Center, the number of programs in Iranian application stores has been mentioned to some extent and relative until 2009, 23,000 in SibApp and 127,000 in Bazaar Cafe. Most of the programs downloaded on Iranian platforms are not specified in this report; But Google Play, VPNs, social networks Instagram, WhatsApp and Telegram, and finally financial and stock exchange programs and buying and selling walls and internet taxis, have introduced Snap as one of the most popular apps in Iran.

Amount of purchase and payment through Iranian apps Has also been reported to be impressive; So that Bazaar Cafe had more than three million active buyers in 2009, of which 75.1 million were added in the same year. This shows the capacity of this market to attract customers.
The report of the National Cyberspace Center mentions the prevalence of corona as an important factor in the growth of Iranian opera; Because the statistics from March 2017 to April 6, 2016 show that downloads have grown by 69%. Meanwhile, drug and treatment programs grew by 100 percent and telecommuting programs grew by 13 percent. Also included are topic categories with the highest number of downloads and updates of tools, messengers, social media, and tutorials.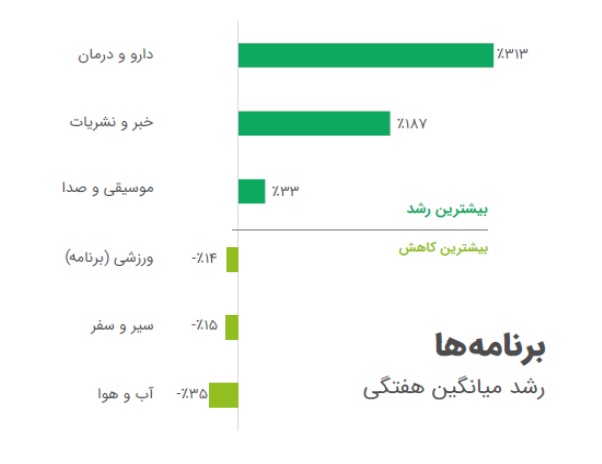 At the end of the report, based on the presented statistics, it is concluded that the production of mobile application software in Iran has a large and growing market. Given Iran's 110 million Persian-speaking languages ​​and good relations with Muslim neighboring countries such as Afghanistan, Qatar, Oman, Lebanon, Iraq and Syria, this shows the potential for Iranian stores to enter halal content. Amir Khorakian"Since the growth and development of these programs has been done inside the country, they are more in line with Iranian Islamic culture and identity," said the Deputy Minister of Culture, Social Affairs and Content Affairs of the National Cyberspace Center.
Khorakian points to the growing number of mobile applications and their expansion into various aspects of people's lives, and says that antitrust rules for app stores should be clarified and problems such as the number of monitors, inadequacies, rules and how to access users' information should be clarified. According to him, there are also criticisms about the monopoly in the supply of mobile applications, and the National Cyberspace Center is looking for policies in this area to further support developers and market regulation.
There are three Iranian downloaded applications in Google Play VPN
The Deputy Minister of Culture of the National Cyberspace Center says that solutions have been devised for the global problem of inappropriate advertising in applications, which threatens the audience of children and adolescents in the country. These include refining Google AdWom ads and adding the age-appropriate requirement for ads and programs, and passing regulations on the legal responsibility for age-appropriate ads.
Problems of Iranian stores
The problems of Iranian app stores have made the situation a little difficult for them. The National Center for Cyberspace points to the high profit margins of Iranian stores in in-app sales and in-app payment programs, and explains that these stores, like the Google and Apple platform stores, earn 30 percent of their revenue from apps. Google and Apple increase their share to 15% after 12 months of financial activity; But Iranian stores always receive their share on a regular basis.
In addition, foreign stores face the global market; While Iranian stores can only earn money in the domestic market. There is a rule in Bazaar Cafe that obliges app developers to make in-app payments through its own portal and demand 30 percent payment as a fee.