In 1997, the Cabinet legalized the extraction of Ramzarz; But digital currency mining machines, which had entered the country illegally before the law was passed, were not assigned until a year later. Five months after the Cabinet approved the assignment of smuggling miners, the optimization system for registering the owners of these devices became operational.
On July 30, 2009, the Cabinet announced that mining devices that had entered the country before August 4, 2009 would be considered as smuggled goods, and that their owners would have to pay fines and tolls to solve the problem. . At that time, the owners of digital currency mining machines were given one month to declare themselves; However, the system was not operational until December 4, and due to this, it was practically impossible to register.
After the announcement of the regulations of the Anti-Trafficking Headquarters regarding the self-declaration of the owners of mining devices at the end of December, the evaluation of the devices was done by industry, mining and trade with the cooperation of customs. Finally, the Central Bank assigned the treasury account number from the Anti-Trafficking Headquarters to the Optimization System and put the system into operation on January 25.
Related articles:
Abbas Ashnaei, head of the Blockchain and Cryptography Commission of the Computer Trade Organization (Nasr) Organization, says that from the announcement of the cryptocurrency extraction industry to the formulation of the first customs laws and the allocation of segregation codes, a large number of miners entered the country. It reaches more than 500,000 devices.
Holders of mining devices can now declare themselves until February 25 and operate legally by paying customs duties, according to the decision of the Council of Ministers and the instructions of the Anti-Trafficking Headquarters. If the device is not declared in the optimization system on the announced date, the consequences will be borne by the owner of the device. In its resolution, the cabinet predicts that in this case, the penitentiary organization will determine the duties of the undeclared devices.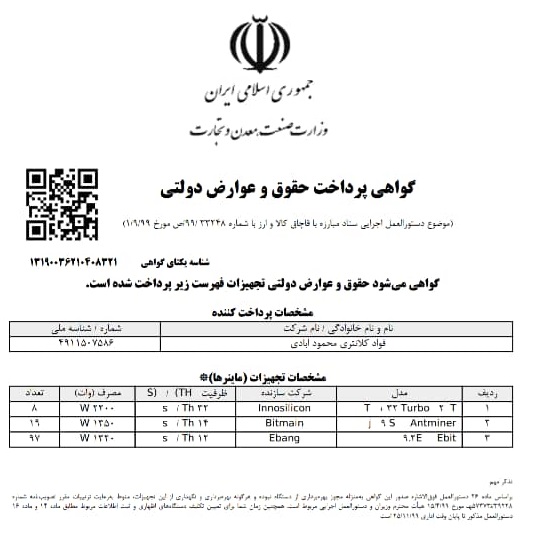 Sample customs payment after self-declaration
The head of the Nasr Blockchain Commission also says that after the self-declaration of the device during the announced period, the owners of the devices will use the device for one month, ie until February 25, to operate the device or give it to a trade and industrial unit licensed to operate or establish Hoteling or hosting, or outsourcing to licensed individuals.