Samsung recently unveiled a smartphone called the Galaxy A02s; But rumors have been circulating in cyberspace that the Korean company is not finished with this product and will soon introduce a lower model. The smartphone in question is called the Galaxy A02, whose hardware specifications have recently been listed in the GeekBench benchmark.
Samsung's new product, which according to the Geekbench list uses the model number SM-A022F, is the standard version of the series, and the Galaxy A02s will be a hardware-optimized version.
Samsung is using a MediaTek MT6739WW chip for the Galaxy A02, which uses a 28-nanometer manufacturing process. The MediaTek chip processor consists of four cortex A53 cores running at 1.5 GHz.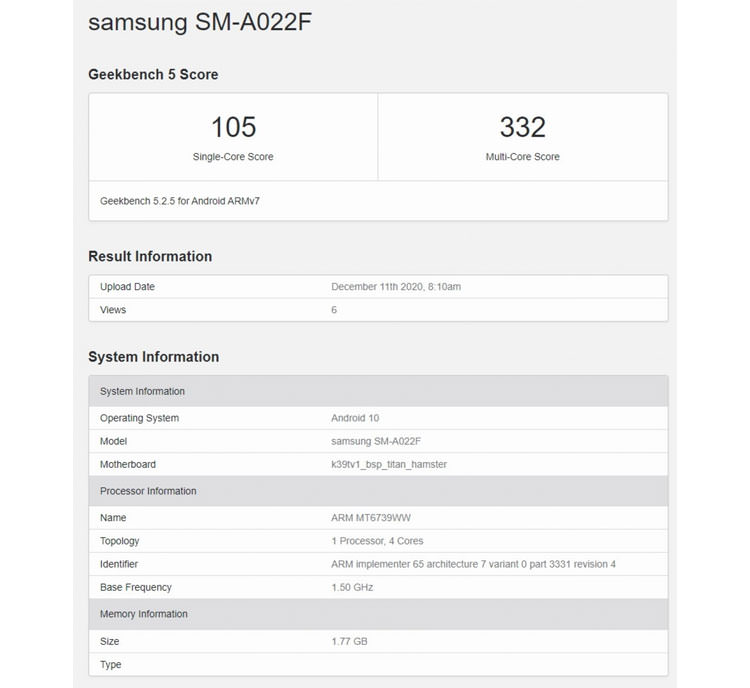 This chip was made in 2017, and if we want to compare it with a model of Qualcomm's Snapdragon chips, it is a weaker example of Snapdragon 450 (with 14-nanometer lithography). Samsung products equipped with the Snapdragon 450 chip include the Galaxy M11, which launched in May 2020.
The Galaxy A02 can be compared to a smartphone like the Nokia 1 Plus that uses the MediaTek MT6739WW chip; Of course, Samsung's new product has 2 GB of RAM instead of 1 GB, which makes the Galaxy A02 superior to the Nokia 1 Plus. For the Galaxy A02s, there is 3 GB of RAM.
Related articles:
The last point that can be seen in the list is that the Galaxy A02 is based on the Android 10 operating system. According to the hardware specifications of the Galaxy A02, this product can be classified as an economical smartphone; Of course, it remains to be seen what price the Korean company will consider for the Galaxy A02.