The Galaxy A72 is expected to be unveiled next week. Samsung plans to launch the Galaxy A72 in two models, 4G and 5G, so that those interested can buy the desired model according to their needs. While the new 5G communications infrastructure is rapidly set up in many countries; But it should be noted that some users are still reluctant to use 5G communications and are content to use 4G communications.
We now know that the 4G version of the Galaxy A72 is produced with the model number SM-A725F and the 5G version is also produced with the model number SM-A726B; But what draws our attention to Samsung's unannounced product is the release of a report on the performance of the Galaxy A72 4G in the Geekbench benchmark.
In terms of hardware specifications, we know that the Galaxy A72 4G model has 8 GB of RAM and is powered by a Snapdragon 720G chip. The Korean company's new product will use exactly the same chips that will be used in the Galaxy A52 4G model.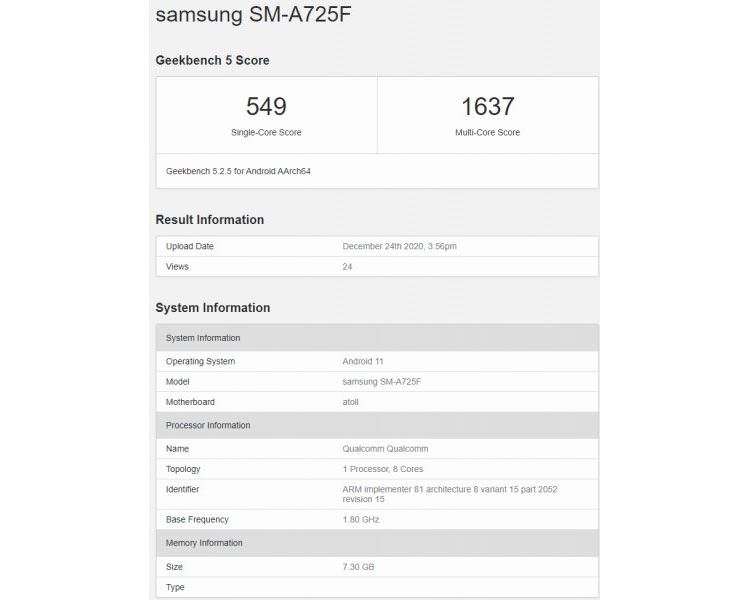 In fact, the published specifications show that the difference between the Galaxy A52 and A72 models will not be in terms of processing power of the chips, and will probably be reduced to the difference in screen dimensions, battery capacity and the capabilities of the main and selfie cameras. In any case, the Galaxy A72 4G managed to score 549 points in the single-core Geekbench benchmark test and 1637 points in the multi-core test, which seems to be a good result for mid-range products.
In addition to the information released, the Galaxy A72 is expected to have a 6.7-inch display and a quad-camera module on the back panel. Although this has not yet been confirmed or denied by Samsung; But it is said that the 5G model of Galaxy A72 is priced between 550 and 600 Euros and the 4G model will be priced between 450 and 500 Euros.
Samsung has chosen black, blue, white and purple for the 4G and 5G models of the Galaxy A72, and it looks like it will launch its mid-range product in early 2021 in Europe and elsewhere.