Since the beginning of the US presidential election, Donald Trump He has repeatedly claimed that he was rigged in the elections and that he is the main winner. Still, the election results show Joe Biden, The Democratic nominee, has won a majority of the vote.
Trump has repeatedly referred to election fraud on Twitter and Facebook, and his false claims seem to have made Twitter think of a solution. Trump's latest tweet focuses on election fraud, with a new caption: "Election officials have endorsed Joe Biden as the winner of the US presidential election." You read that right! Twitter now says in tweets posted by Trump that Biden is the winner of the election.
Following this incident, the media contacted Twitter to ask for more details about the incident. Twitter has told Verge to update the previous tag to reflect the latest information. However, there is a noticeable difference between the new tag and the old Twitter tag. "Several sources have mentioned this election in different ways," the previous Twitter post said. The use of this text left Biden still in doubt about the presidency.
Related article:
Now that Electoral College has voted, ‌ Twitter has not only accepted the final result; Rather, it is clearly trying to disprove Trump's claims of winning the election. In the screenshot below, you can see the text that Twitter has added to Trump's tweets.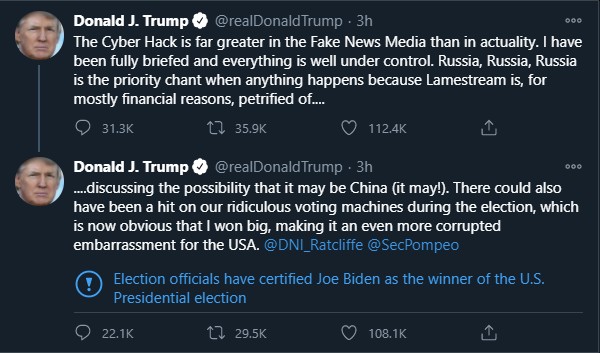 Will this move by Twitter cause Trump to drop his claims? We have doubts in this regard. The screenshot below shows the text that Facebook has added to Donald Trump's new post. "Election officials are subject to strict laws and have found no evidence of widespread fraud," the statement said.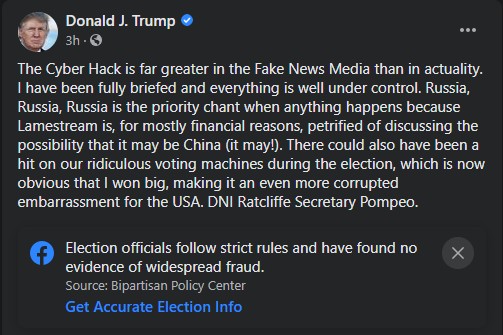 What do you think about this news?