It seams Intel is ready to introduce newer models of the 11th generation Tiger Lake series chips (Intel) next year Tiger Lake) which have a higher thermal design capacity than current models.
According to a revelation by APISAK on Twitter, two new chips in the form of the Tiger Lake family have recently been spotted in the Geekbench benchmark database, known as Core i7-11370H and Core i5-11300H. Thus, it seems that Intel is looking to supply Tiger Lake H series chips.
Both chips are equipped with four cores and support Hyper-Threading capability, thus having a relatively high clock speed. Keep in mind that the Core i7-11370H and Core i5-11300H scores fall into the category of unapproved Geekbone scores and may therefore be inaccurate.
The Tiger Lake series chips are based on a new lithography that Intel calls SuperFin. Superfin lithography is 10 nanometers and, according to Intel, brings significant improvements to Tiger Lake chips. Tiger Lake series chips have generally focused on reducing power consumption, and this is the first time we have heard of chips that instead of focusing on reducing power consumption, specifically focus on providing high processing power.
Current Tiger Lake chips are 15 watts; But the H series chips of this family will definitely have more power. Given the fact that both Core i5 and Core i7 chips carry the H suffix in their name, it makes sense to expect 35 watts of power from them.
The 10-nanometer Suprofin architecture can increase the efficiency of processing cores by 20% compared to the previous generation of Intel architecture, and increasing the thermal design power can increase the processing power.
As it turns out, the Core i7-11370H processor has a base clock speed of 3.3 GHz and processes various tasks at a clock speed of 4.8 GHz. The Core i5-11300H reduces the base clock and boost speed by almost 300 MHz to 3.1 GHz and 4.4 GHz, respectively.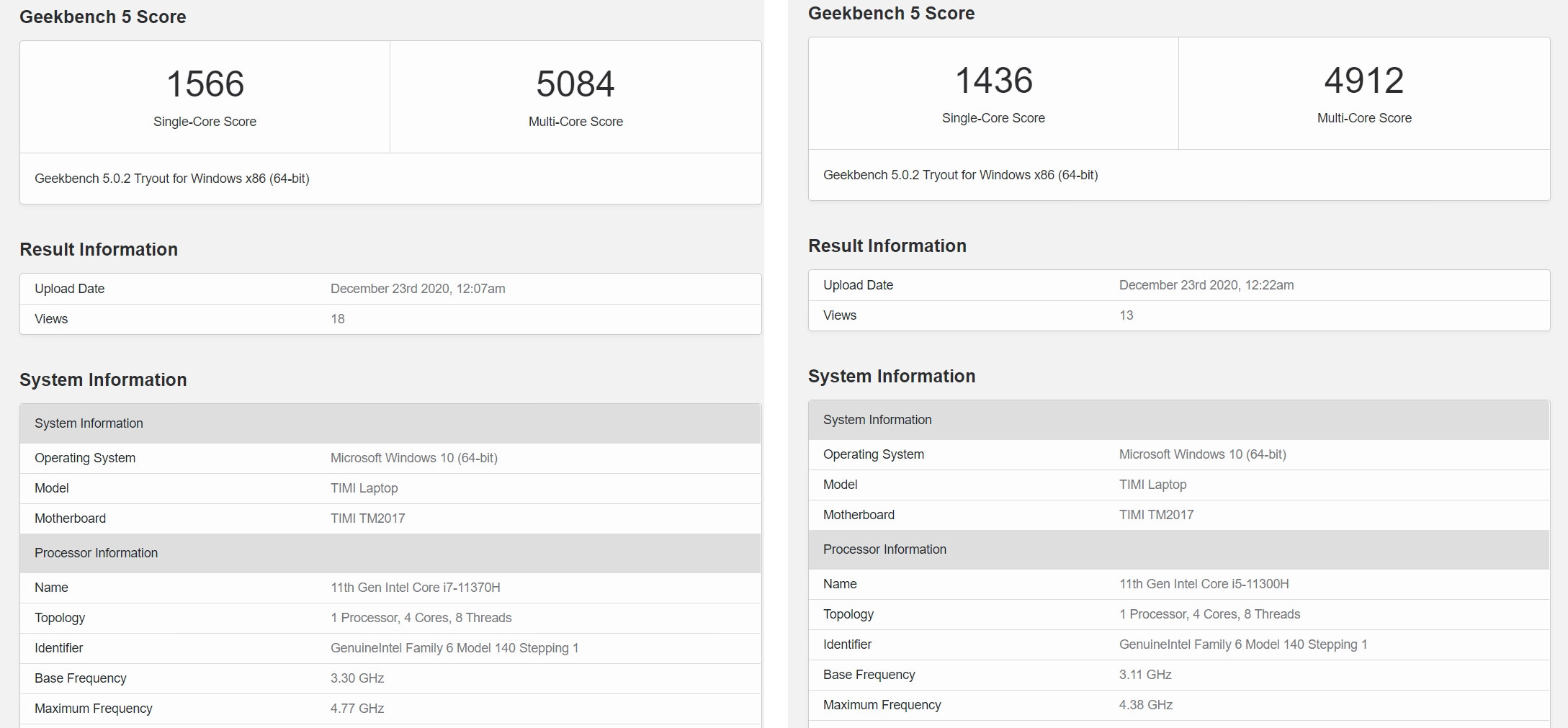 Core i5-11300H chips on the right and Core i7-11370H on the left (click on image above to view full size)
In the Geek Bench 5 benchmark, the Core i7-11370H processor scored 1566 points in single-core tests and 5084 points in multi-core tests. On the other hand, the Core i5-11300H single-core and multi-core scores are 1436 and 4912, respectively. These points are remarkably higher than those of previous Intel processors such as the Core i5-10300H.
Single-Threaded Scores The new i5 and i7 chips are almost exclusively close to the Ryzen 9 5900HX (the flagship AMD processor for laptops) and the Ryzen 7 5800X desktop processor. Achieving the declared points by chips made for laptops is an important event, and the use of these chips at high clock speeds can help them to play video games in a great way. When it comes to multi-core performance, the performance of the chips is still very good.
Related articles:
Both new Tiger Lake chips have defeated the Ryzen 5 4600H processor, which is based on the Zen 2 architecture and has six processing cores. The difference between the new Tiger Lake chips and this AMD chip is between 100 and 200 units. Considering the Core i7-11370H and Core i5-11300H benefit from four processing cores, the defeat of the Ryzen 5 4600H is considered an important event.
Keep in mind that the Ryzen 5 4600H is a relatively weak AMD processor, and when you look at the scores gained by the new chips based on the Zen 3 architecture, you will notice that the new Tiger Lake chips are far behind in terms of multi-core scores.
What do you Zumite users think about the new Intel chips?